How to split Invoice document in PDF based on Invoice numbers
Q : Hey, I have a PDF file contains multiple invoices and I need to split it into separated invoice files by its inner invoice numbers. Is there an ideal solution for me to easily finish this work?
A: According to your problems, I strongly recommend you Simple PDF Content Split, which is a great PDF splitter for users to easily divide PDF file into multiple independent PDF files based on the text content within PDF. It is especially suitable to those who have to split documents like invoice, report, payroll and order, etc. It only takes you several simple steps to split your invoice document on invoice numbers, and you can learn how to operate it from the below tutorial.
1. Launch Simple PDF Content Split and import target PDF file;
2. Select Edit Rule option to open split rule editor dialog;
3. In preview pane, find out the position of invoice number on the page, and click to add it to split tag;
4. Select added split tag from Split Tag List, then define split condition and output name pattern;
5. Click 'Save' button to finish rule editing, then return to primary screen to confirm splitting.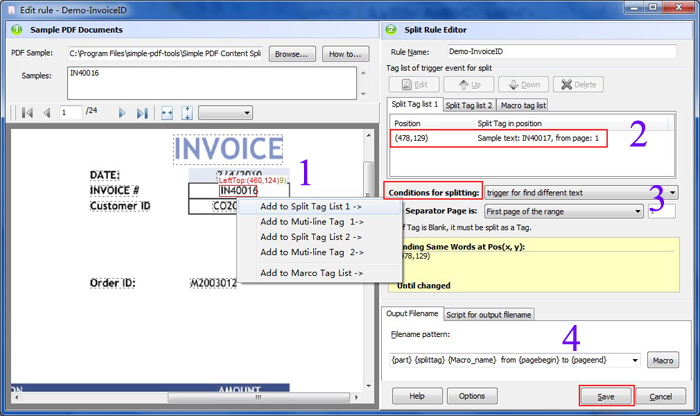 Have a free try on Simple PDF Tools