How to extract e-mail address from attached PDF file for sending e-mail automatically
Q : I always get PDF files that contain my clients' e-mail addresses, and I also need to send those PDF files to my clients at the inner addresses. Is there a ideal solution to auto extract these e-mail addresses and send files directly for me?
A: Based on this situation, Simple PDF AutoMail would be a great choice for you. Simple PDF AutoMail is a powerful PDF email solution to auto extract mail address in PDF and send PDF by extracted address. It is also easy-to-use, its user-friendly features allow you to easily finish your work in several steps. Next is the simple steps to operate Simple PDF AutoMail.
1. Launch Simple PDF AutoMail and add targeted PDF file(s).
2. Select a rule to batch send email, or you can add and edit a new rule.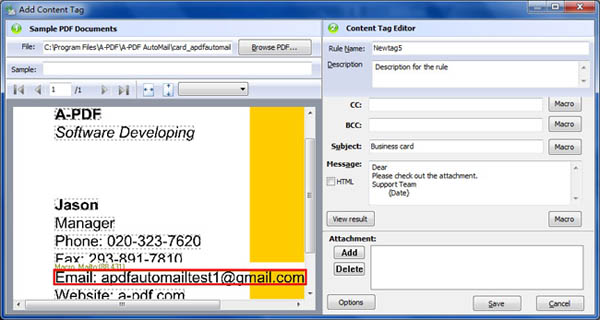 3. Define e-mail settings and check e-mail information correct.
4. Choose Email or Email Selected button to begin sending.
Have a free try on Simple PDF Tools