How to apply Hot Directory Mode to auto process?
Q: Every day I need to stamp a lots of new PDF files with watermark of my company logo, which is a troublesome work. Can Simple PDF Watermark provide me a ideal solution?
A: Simple PDF Tools software aims to make your business easier and bring more convenience to our users. In this spirit, our software provides a lots of convenient features. Considering your situation, I believe the Hot Directory Mode of Simple PDF Watermark will help you out your problem.
Hot Directory Mode is an useful function to auto process various documents without manual operation. That means you don't need to manually watermark PDF files one by one again. You just need to appoint a monitored directory and a output directory. When the new files are written in monitored folder, them will be auto watermarked silently.
Operation Steps :
Step 1 : Run Simple PDF Watermark
Step 2 : In the primary screen, select a watermark from pre-built watermarks or custom one with watermark editor. Then Choose Hot Directory Mode to initiate Hot Directory Mode.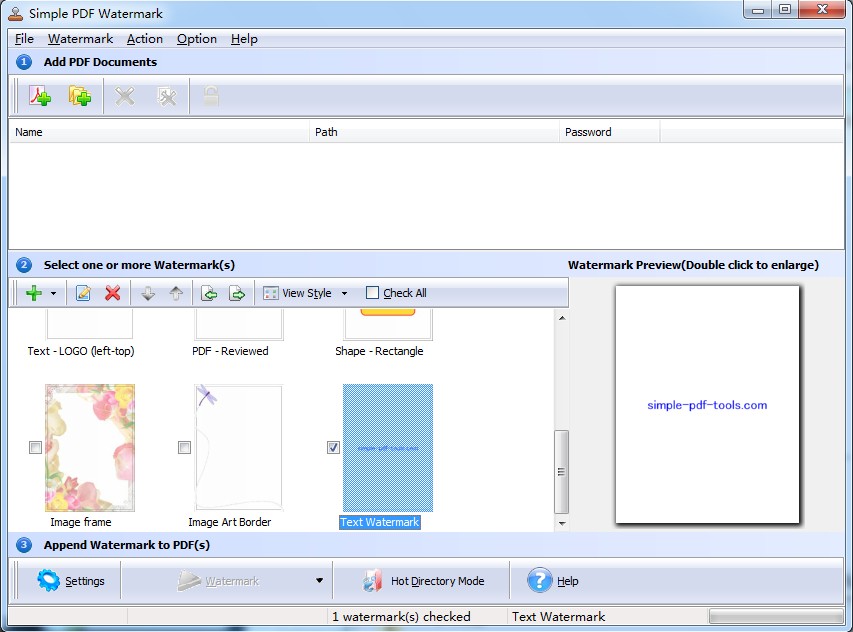 Step 3 : In Hot Directory Mode, select a folder in your computer for Monitored Directory and another folders for Output Directory and log file directory.
Step 4 : Click Start button to start the service.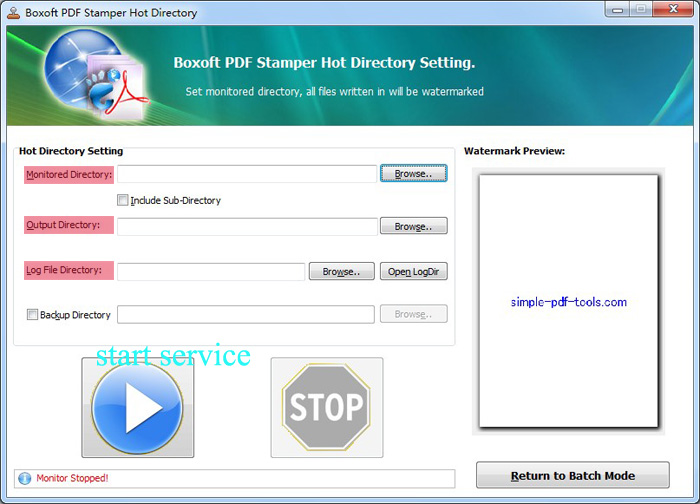 Have a free try on Simple PDF to Flipbook series software
>> Simple PDF to Flipbook for Mac
>> Simple PDF to Flipbook Pro for Mac