Can I stamp watermark to custom pages of PDF file
Q : I get a PDF file needed to be appended with watermark, and I just want to watermark some pages. How can I custom pages for watermark with Simple PDF Watermark?
A: Simple PDF Watermark is ideal solution to add watermark to PDF file, it provides much custom settings and can batch convert large volumes of PDF files with great efficience.
You can easily follow the below steps to customize pages for watermark.
1. Start Simple PDF Watermark and import PDF file that need to be watermarked.
2. Select a watermark from watermark base or edit your own watermark.
3. Select Settings option to open Settings dialog, then choose General tag.
4. Under General tag, you can select certain page range for watermark, such as all page, odd/even page, or custom page range.
5. Click Ok to finish page selecting and return to main window.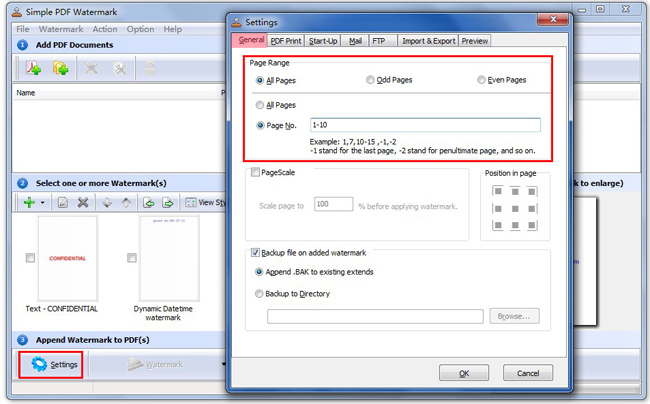 Have a free try on Simple PDF Tools