So simple PDF conversion Is
posted Sept 18th, 2012
Invented by Adobe Systems and perfected over 17 years, Portable Document Format (PDF) is the global standard for capturing and reviewing rich information from almost any application on any computer system and sharing it with virtually anyone, anywhere. Since PDF is widely used in a variety of fields, so in our day-to-day work, learning, we often have to encounter such problems- how to convert other types of documents into PDF, how to turn PDF into other types of documents and how to convert pdf file efficiently. In many people's minds, PDF conversion is a time-consuming, laborious work, either it is converted to PDF or convert PDF to others. However, in fact, as long as you choose the right tools, PDF conversion is just a simple work.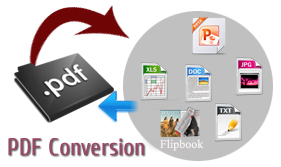 Simple PDF Tools is the industry-leading developer of PDF tools, mainly engaged in the research and development of PDF conversion tools and PDF editing software. The PDF conversion software of Simple PDF Tools has been always known for its feature-rich and great efficiency, and it has covered a wide range of document formats conversion, including Office, image to PDF and PDF to Office, images, flashbook, flipbook. Therefore by the use of Simple PDF Tools software, you can achieve a variety of common PDF file conversion.
In addition to compatibility with a variety of file formats, there are also another important characteristics in Simple PDF converters that they are such easy-to-use and highly efficient. Developed based on user experience, Simple PDF converters are presented with user-friendly interface, and the simple operation features allow users to convert files in several simple steps. What is more, those programs are able to convert files with minimum time consumption, especially the batch function of software can handle a large number of files at the same time with amazing efficiency.
Of course, there are more useful features and prominent features in Simple PDF converters, which are leaved for yourself to experience. all in all, Simpel is definitely your ideal choice. From the moment you select it, the job of PDF conversion is no longer difficult.
Series programs of Simple PDF converter