Convenient Way to Split PDF Document Based on Content
posted Nov 26th, 2012
Portable Document Format(PDF) is one of the most popular document formats in the world, and widely used in a variety of fields. In daily life, you might need to deal with different kinds of PDF files for business, study , etc. and sometimes you might have to face a problem how to divide PDF that consists of a numbers of related data into segments.
Those PDF files such as invoice, payroll, reports and journal always need to be split into many separated PDF files based on contents like invoice ID, date and so on. If we manually split those files one by one, it will be a time-consuming and troublesome job. Therefore instead of manual operation, a convenient tool to accomplish these process automatically is of great help. And this post will introduce you a wonderful PDF splitter - Simple PDF Content Split (by Simple PDF Tools) to help you out of those problems.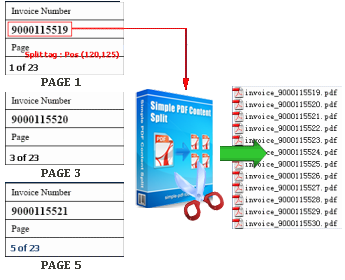 Simple PDF Content Split is a convenient PDF splitter, allowing you to customize splitting rules so that the PDF file is separated on certain appointed text content and page location. For example, with Simple PDF Content Split you can edit the splitting rule and have PDF invoice file divided by invoice ID, then you can get split PDF files with different invoice ID. What is more, software allows to batch apply the same rule to numbers of PDF files, which save your time.
The rich powerful features of Simple PDF Content Split have make it one of the best PDF splitter in the world. And it will be a helpful tool for you to handle PDF documents. If you want get rid of those troublesome question, go ahead to download and install Simple PDF Content Split to have a free trial right now. I believe it will be better than you think.
Series programs of Simple PDF converter